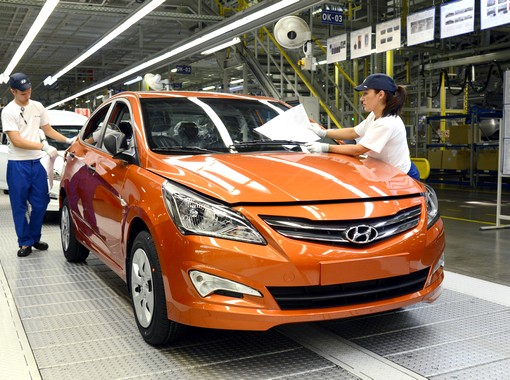 In the first quarter of 2017, the overall production of Hyundai Motor Manufacturing Rus stood at 54 thousand vehicles, a figure that reflected a 30-percent increase relative to the result achieved in the first quarter of 2016, the press service of Hyundai Motor C.I.S. announced on April 7, 2017.
Hyundai Motor invested RUB11 billion (USD195.4 million) in its Russian manufacturing arm from 2016 to 2017 to sustain its production capacity during the launch of the company's latest models. The manufacturing facility now utilizes 230 robots in the process of assembling the automobiles. Hyundai Motor's Russian division anticipates turning out over 220 thousand vehicles in 2017.
Hyundai Motor C.I.S. enjoys the exclusive right to import and distribute Hyundai cars in Russia. The company's sales in Russia totaled 145,254 cars in 2016, a number that reflected a 9.9-percent year-on-year decrease.
Today Hyundai operates some 20 branches and manufacturing facilities, as well and seven production centers beyond South Korea, including in the U.S., China, India, Russia, Brazil, and the Czech Republic. Global sales for the company were 4.86 million automobiles. The group employs about 80 thousand people. Hyundai produces both compact and full-size cars, SUVs, as well as commercial vehicles.