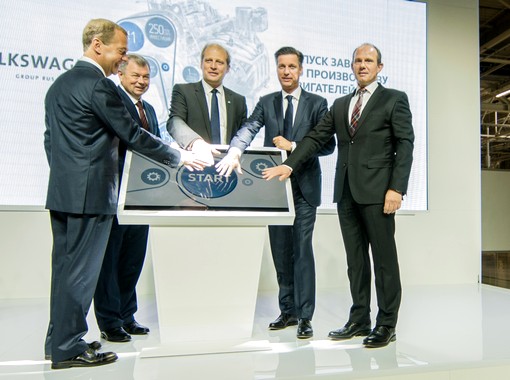 In the two-month period of time from January to February 2017, Volkswagen's global sales decreased by 2.6 percent year-on-year to 1.501 million, but its sales in Russia increased by 4.1 percent to 23 thousand cars. The automaker's sales in Western Europe also showed a positive result, having gone up some 0.7 percent to 514.6 thousand units. European sales overall saw an increase of 2.6 percent to 620.1 thousand vehicles.
In February 2017, Volkswagen's total sales amounted to 686.9 thousand automobiles, a figure that is 0.9 percent below the result demonstrated in February 2016. In January, the carmaker's Russian sales were up 6.3 percent to 13.1 thousand cars.
Volkswagen is Europe's biggest producer of automobiles that owns the Volkswagen, the Audi, the Skoda, and the SEAT brands. The group also has a high-end division with such brands as Lamborghini, Bentley, and Bugatti. In 2010, Volkswagen completed a merger with Porsche AG. Volkswagen manufactures commercial vehicles under the Scania brand.
With its corporate office in Wolfsburg, Germany, Volkswagen boasts 400 thousand employees. The company's subsidiary in Russia Volkswagen Group Rus launched an assembly plant with an annual capacity of 150 thousand cars in Kaluga in 2007.
Volkswagen increased worldwide sales in 2016 by 3.8 percent year-on-year to 10.312 million vehicles. Performance in the group's Russian division over 2016 reflected a 4.3-percent decline to 166.9 thousand units.