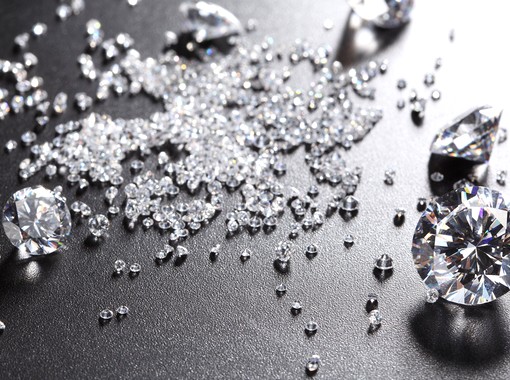 Market prospects in turbulent times
The Russian jewelry industry is confronting the challenges of a declining economy. Retail sales figures continued to plummet in 2016, declining by one third over the year. The fall has been particularly noticeable in the diamond jewelry category, as it meets the competition from less expensive stones. Another issue of concern for the market is that jewelry manufacturers – even reputed large enterprises – place greater value on their gems in relation to the actual price, oftentimes from the use of less expensive synthesized minerals.
The rate of decline in production of jewelry articles over 2016 has been the same as in the year before. Russia's Assay Chamber reported that the number of gold jewelry on the market stood at 27.1, or 51.7 tons by weight. A year prior, in 2015, the market had 28 million pieces, whose weight was 58.9 tons. The manufacturing of gold articles in 2015 stood at 34.22 tons, having gone down some 39.4 percent in relation to the results for the previous year. Silver jewelry production similarly declined, plummeting some 21 percent to 41.34 million pieces, or 183.5 tons. While the number of the silver articles brought into Russia from foreign countries stayed flat at 11.5 million pieces, Russia's imports actually went down 16 percent by weight to 37.5 tons.
Industry experts agree that the Russian jewelry market can slowly begin reversing the negative trends in 2017 only if the economic situation in the country as a whole normalizes and middle class incomes rise. The most optimistic scenario has Russia's jewelry market rebounding by eight percent in 2017. It would take market growth to continue at that pace for at least five years for jewelry sector revenues to be on par with pre-recession figures. On the opposite side of the spectrum is a scenario that the crisis in the jewelry sector continues, with Russia's production spiraling further down to the point where substantial capacities are taken offline and the country's technological advancement in jewelry-making gained in the recent years is compromised. 
The producers do not have the requisite cashflow to acquire new resources to augment production within a small timeframe. In view of these circumstances, Russia looks as an attractive market to foreign investors.
Changes in Russia's legal landscape improve the country's prospects for imports. The export duty on diamonds, previously established at 6.5 percent was eliminated as of September 1, 2016 as part of Russia's adherence to the WTO guidelines.
The export duty for gold and platinum was lowered to 1.63 percent from 4.88 percent. In view of the fact that nearly all of Russia's diamond production are export-bound, the move is expected to make the growth of Russia's diamond processing industry more difficult. Last year, diamond exports to India alone stood at USD1.5 billion. Export duties for jewelry products went down from 20 to 10 percent as of January 1, 2017. The elimination of import duties for gemstones is in the works as well. These tariffs were at 10 percent for most gemstones, except for rubies, sapphires, and emeralds, which had a duty of 15 percent.
The industry's steps towards liberalizing the jewelry market will foster favorable conditions for out-of-the-country producers. Foreign players are sure to see demand for either luxury products, or mass produced goods in a segment that includes relatively inexpensive pieces with diamonds and natural stones.
Russia is not alone of the former Soviet republics. The trend towards increasing jewelry imports became noticeable in the markets of a number of former U.S.S.R. countries as recently as in 2016. With the increasing quantities of articles shipped, changes have taken place in the composition of imports. In the years past, the jewelry items that were imported were for the most part luxury brand-name pieces. More recently, product imports have come from all price ranges with a larger share consisting of mass-market goods.
Industry experts believe that a number of jewelry articles flow into Russia without being declared to customs officials, particularly in the luxury category. Some fear that the numbers of these black deliveries are so high that they account for as much as 70 percent of total imports. The principal reason is that the customs duties are very expensive. Tariffs can easily add up to a substantial percentage of the jewelry article's total price, as current duty rates are at 20 percent for Armenia and Ukraine, up to 45 percent for Kazakhstan, Belаrus, and Azerbaijan, and up to 100 percent for Uzbekistan and Turkmenistan.
Russian manufacturers experienced a significant fall in gold jewelry production, as figures fell from 18 tons in 2014 to 2.64 tons in 2015.
Russia accounts for only a small proportion of worldwide jewelry exports, some 0.12 percent. Nevertheless, there are significant opportunities for further expansion that are attributable to the Russian craftsmen's high design skill and lower costs.
All these conditions play together to provide for market reformatting. The trend undeniably is for big companies to lower manufacturing volumes towards the goal of economization. The market leaders of the past decade are facing existential challenges. For example, the debts of a jewelry chain retailer Yashma Zoloto reached USD500 million and the company was declared bankrupt. Law enforcement officials in Moscow executed a search at the headquarters of Russia's biggest manufacturer of jewelry Adamas in December 2016 under the suspicion of tax violations to the tune of USD80 million.
In this environment, smaller companies that are not burdened with high overhead costs and that can quickly adapt to the changing market realities are ahead of the competition. The size of Russia's jewelry market in the analysts' assessment was RUB45 million (USD0.71 billion) in 2016. If one considers the trading of jewelry articles on the grey market to be 30 to 35 percent of the official market size, the total sales volume in Russia may be estimated at close to USD1 billion.
As a rule, Russian consumers look for items in the low-price segment, and this trend is taking hold with renewed strength in recent times. Mean purchases at Russian jewelry stores these days total RUB20 thousand (USD300). Jewelry retail margins in Russia went down from 50 to 30 percent. While boutique-like operations enjoy market advantages over larger chains, the smaller fragment was traditionally the preferred avenue for high-end retailers, as opposed to sellers of low-cost items.