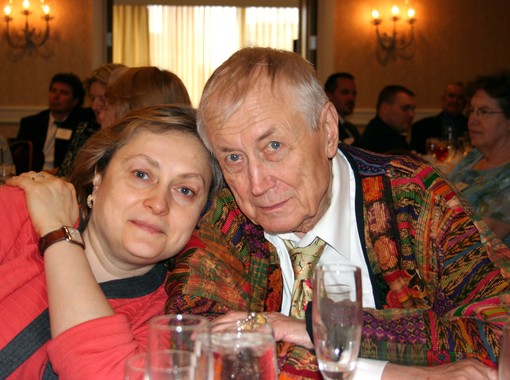 The late Russian poet Yevgeny Yevtushenko had been extremely preoccupied with the deterioration in the U.S.-Russia relationship that he saw in the final years of his life, Mr. Yevtushenko's widow Maria said.
"When we watched the presidential campaign debates, we were disappointed to see such hostility towards Russia. It was very unpleasant to follow the pre-election campaign, it's always easier to find an external enemy and build your policy this way," the poet's widow noted.
"But Russia, Yevgeny would say, Russia has no future without America, and America does not have a future without Russia; they must work together to solve pressing problems – disease, hunger, and terrorism," Maria Yevtushenko recalled.
"All this tension, the current relationship – Zhenya always stressed that it is in the minds of politicians. Ordinary people neither Americans with respect to Russians, nor Russians towards American, they don't feel it."
Maria Yevtushenko stressed that when the poet's health problems became obvious and when the news of his hospitalization and then death got out to the public, the family's friends in the United States volunteered to help however they could.
"We never heard them say 'that Russian.' No one here thinks like that. All our friends, regardless of nationality, race and so on, absolutely everyone, rushed to help us – our students, current and former, their relatives, our children's friends, their parents, neighbors – absolutely everyone whose lives have been touched by Yevgeny. They came, called, wrote, asked what they could do to help – how to help with organizing a memorial ceremony at the University of Tulsa," she said.
Maria Yevtushenko said that the poet did not leave behind a will or any special thoughts written on paper. "He said everything in his poems, and he never renounced any of it," she stressed. "Yevgeny raised so many issues in his poems that I even told him, in jest, 'your love poems, were never about love.' He began to talk about love, but still immediately expressed other thoughts, described premonitions, fears, touched on new topics," she explained.
"Zhenya never ceased to love people, despite disappointments. In Yevgeny's, life there was a lot of injustice, betrayal, undeserved, unthinkable slander. And this despite the fact that he always helped a lot of people in difficult life situations, and did it himself, on his own initiative, and despite the betrayals, he continued to constantly help, he would say: What, I have to stop believing in people, stop helping them?"
According to Maria Yevtushenko, the poet left a number of unfinished poems, and other works, including handwritten lines, notes, and various computer texts. The poet's wish was to finish the work he began.
"I can't even say what his last poem or prose was. Zhenya worked on so many things at once. This was his way of life. And even after learning about the disease, his main desire was to get as many things done as possible," she said.
"He kept saying 'I need to work, I have a lot to finish.' He was a strong person, a very strong person," Maria added.
Yevgeny Yevtushenko died of cancer on April 1, 2017 in Tulsa, Oklahoma. A large crowd of people attended a memorial service that took place at the University of Tulsa, where Yevgeny Yevtushenko lectured for the past 25 years. A memorial ceremony in Moscow took place on April 11 with numerous state officials in attendance.