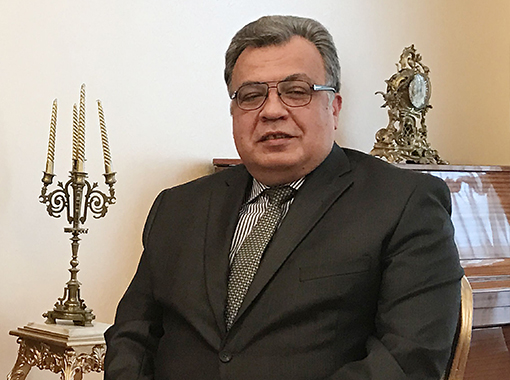 The Russian ambassador to Turkey has died after being shot by a gunman in Ankara, where he was attending a photo exhibition.
"This is a tragic day in the history of Russian diplomacy. The Russian Ambassador to Turkey Andrey Karlov died after being shot at during a public event in Ankara," Russian Foreign Ministry spokesperson Maria Zakharova said on December 20, 2016.
The assault on the Russian ambassador is an "act of terrorism," she added.
"We are in touch with Turkish officials, who assured us that there will be a thorough and comprehensive investigation into the case," Ms. Zakharova said.
Ambassador Andrey Karlov was shot as he was delivering a speech at the opening of the exhibition entitled Russia in the Eyes of Turks.
The perpetrator, who was wearing a suit and a tie, shouted "Allahu Akbar" ("God is great" in Arabic) during the attack.
Following the shooting of Mr. Karlov, the assailant shouted: "Don't forget Aleppo! Don't forget Syria!" "Only death can take me away from here. Whoever has a role in this cruelty, they will pay for it one by one. They will," the man went on to say.
Since 2015, Russia has been providing the Syrian government forces with air support in their fight against terror groups and rebels.
Three other people were also injured in the attack on the ambassador. The attacker himself has been killed by Turkish Special Forces in a shootout that followed.
The gunman was a police officer, Turkish Interior Minister Suleyman Soylu confirmed in the wake of the assassination. The perpetrator had presented a police identification badge as he entered the exhibition.
Meanwhile, a picture allegedly showing the perpetrator's personal file, apparently proving that he was indeed a police officer, was posted on social media.
Reacting to the assault on the Russian ambassador, the U.S. State Department expressed its condemnation.
"We condemn this act of violence, whatever its source. Our thoughts and prayers are with the victims and their families," State Department spokesperson John Kirby wrote in his official Twitter account.
The attack on the ambassador might be an attempt to jeopardize relations between Moscow and Ankara, a Russian MP and member of the International Relations Committee Elena Panina said.
"I believe that this is a provocation to disrupt the improved dialogue between Russia and Turkey. Moreover, we know that the Turkish President Erdogan is due to visit Russia. Therefore, it is a pure provocation," Ms. Panina told the RIA Novosti news agency.
Russian Foreign Ministry Commissioner for Human Rights Konstantin Dolgov said that the death of Mr. Karlov was a huge loss.
"He [Mr. Karlov] was a very talented diplomat, a very experienced diplomat. It's a very big loss for all of us."
"All those, who planned this attack, those who participated in perpetrating this terrorist act and in carrying it out, will be brought to justice; there is no doubt about that," Mr. Dolgov emphasized. The diplomat also noted that "there is no justification whatsoever for such a terrorist act and there is no justification for terrorism as a whole."