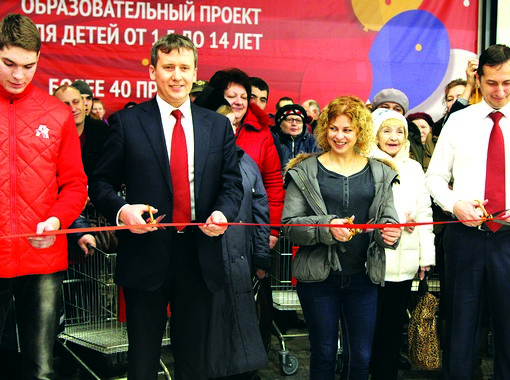 The Russian food retail market is amongst the largest globally, behind the food markets of the U.S., China, Japan, France, and India, with revenues of USD317.1 billion in 2014. Russia is the ninth most populated country in the world with its 146 million people. As the population grows, the people are buying more food. The sheer size of the Russian market means it is too big for food suppliers to ignore.
The market has been on the rise, with a 15-percent compound annual growth since 2006. However, due to geopolitical complications, the years of 2014 and 2015 were difficult for the overall Russian retail sector. Despite growing in value in rouble terms, the sector registered a decline in dollar terms. Going forward, stable growth of around four percent annually is expected for food products, but a return to double-digit growth rates that were observed before the crisis is unlikely. Usually, entering a retail market of Russia's size and potential means fierce competition to get new products on the shelves. However, the recent political turbulence has dramatically altered the traditional landscape. In late 2014, Russia banned all imports of fruits, vegetables, meat, and dairy products from the E.U., the U.S., and various other countries.
These developments caused shortfalls in supply and led to significant price increases. In order to find new food supply channels, the Russian government introduced a program of support for domestic producers of food products and a complex system of sanitary and phytosanitary requirements for imported foods.
Before the bans were introduced, Russia spent USD25.2 billion on food imports in the affected categories. This means exporters in countries unaffected by the bans, as well as local players, have a once-in-a-decade chance to grab a bigger slice of this huge market. Most of Russia's food retailers have managed to adapt by substituting the imported categories with domestically-grown food and food from other non-banned countries. The local players' sourcing from local producers has not been affected by the bans; on the contrary it gave them a competitive advantage and facilitated their market share growth against the players relying on imports. Countries already taking advantage of this opportunity include Pakistan, Serbia, Chile, Argentina, Brazil, and Egypt. Since the ban's introduction, the share of Pakistani food exports to Russia increased by 1,400 percent. The share of Serbia's exports saw a 66-percent increase. Export shares also increased for Chile (11 percent increase), Argentina (25 percent increase), Brazil (10 percent increase), and Egypt, which now supplies 11.4 percent of all Russia's food imports.
The top seven players in the Russian food retail market held a market share of 18.8 percent in 2014. This share is expected to rise to 31 percent by 2020. The majority of the top players are domestic companies, including Magnit, X5 Retail Group, Lenta, O'Key, and Dixie Group. The main foreign players include Auchan and Metro Group. According to the data from Russia's State Statistics Service, modern retailers – which include organized retail groups operating through formats such as supermarkets and hypermarkets, and other discount and convenience stores – held around 53 percent of the Russian food market in 2014, as compared to 21 percent in 2006.
Traditional retailers such as "mom and pop" convenience stores accounted for 32 percent, while kiosks and open markets held a further 15-percent share of the market in 2014.
According to Sberbank, Russian households had an average of 4.3 food stores within walking distance of their homes as of December 2014, of which only 1.4, or 32 percent, belonged to the five largest chains.
Modern retailers have a market share of 72 to 76 percent in major cities, such as St. Petersburg, Nizhny Novgorod, and Moscow, and around 40 percent in rural areas and small towns. According to market experts, these penetration levels can increase to 76 percent and 55 percent respectively. These figures show that less populated and penetrated locations have great potential for modern retail expansion, especially in the convenience store format. With the growing number of time-strapped shoppers, the demand for the convenience store layout is on the rise. The market has seen a surge in supermarket construction. The major Russian chain Magnit opened five new stores every day in 2015, on top of the 1,600 it opened in 2014. This development shows that the size of the food market is still growing.
Modern retail groups are professional players, able to rapidly expand their operations due to their economies of scale in areas such as logistics and suppliers' terms, among others. They are thus able to deliver the lower prices that the shoppers seek out with little negative impact to their financial results.
Russian consumers have displayed a reduced appetite for spending big on groceries in recent years, which is a factor facilitating the growth of modern retail groups. According to Rosstat, consumer price inflation in Russia in 2014 was 11.4 percent – the highest level seen since the financial crisis of 2008 when consumer prices grew by 13.3 percent. Retail prices for food items covered by the food import ban surged 17.9 percent, after the ban was introduced. With a large share of food and consumer goods imported, purchasing power has been severely affected by the large drop in the value of the Russian rouble. These factors pushed Russian consumers to adapt by shifting towards value products.
Increasing prices for many food categories (fish, dairy products, fruits, and vegetables) have caused customers to seek out lower price substitutes and, in turn, the sales of non-essential food products decreased. The composition of the customers' baskets has changed: fresh foodstuffs are being passed over in favor of processed goods, such as canned fruits, frozen vegetables, bottled sauces, and sausages instead of meat. Modern retail chains can afford discounting and special product promotions, and they meet the customers' expectations.
The share of private-label price-cut merchandise is also increasing, as private labels are usually 20 to 30 percent cheaper on average than branded products. The share of private labels in the companies' total sales was between 10 and 13 percent in 2014. An increase of up to 20 percent was expected by the end of 2016.
Most of the big retail companies operate stores in more than one retail format. Some, like Dixie, are even represented in all types of modern retail formats. Having many chains in different formats helps retailers to keep customers, even if these customers change their shopping habits. In this case, retailers will not end up losing clients, as they will only be changing the place they shop and staying loyal to one retail group.