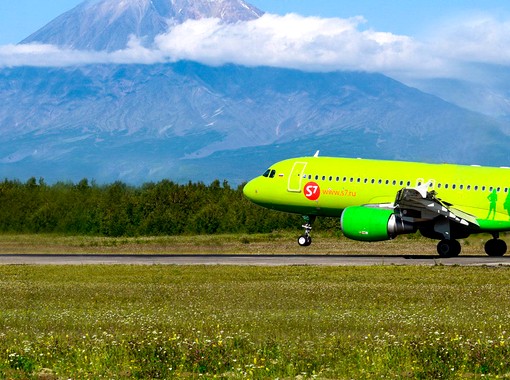 In 2017, S7 Airlines, a Oneworld global aviation alliance member, is going to add Embraer 170-LR aircraft to its fleet. A new type of aircraft is delivered to carry out the interregional air transportation development program, the press service of S7 announced.
S7 signed its lease agreement for 17 Embraer 170-LR aircrafts with the GE Capital Aviation Services (GECAS) leasing company. S7 Airlines will be the first operator of this type of aircraft in Russia. The first planes are expected to be delivered to the S7 Airlines fleet in the spring of 2017, and all 17 aircraft will be received by the airline during 2017. The new aircraft is designed to carry 78 passengers in a spacious and comfortable economy class cabin.
"Having Embraer 170-LR planes will make it possible to develop interregional air transportation more actively. We believe that there is a huge potential in this segment. Presently, air transportation routes are focused on Moscow, and very often passengers traveling from cities in the Urals to the Far East have to fly through the Russian capital. The first Embraer aircraft will be stationed at the Novosibirsk Tolmachevo Airport, which is conveniently located to connect the regions more efficiently. The new aircraft will allow us to have the flights originate in small and remote locations where it is impossible to land medium-range aircraft," S7 Airlines' CEO Vladimir Obyedkov said.
"The acquisition of E170 aircraft by S7 Airlines is a result of thorough analysis of the airline's increasing demands," said Alec Berger, GECAS president and director general. "The Embraer 170 aircraft is highly cost-effective and perfectly suits S7 Airlines' domestic air transportation development," he added.
In line with the program, S7 Airlines is planning to develop regional flights from Novosibirsk and Moscow. Embraer aircrafts will be used both on existing routes, as well as on new regional flights. As such, new flights are expected to be launched from Novosibirsk to Krasnoyarsk, Surgut, Nizhnevartovsk, Novy Urengoy, Chelyabinsk, as well as Perm, to the cities of Kazakhstan, and also – looking forward – to some of the hard-to-reach cities.
The airlines of the S7 Group (Siberia Airlines and Globus) carrying out flights under the S7 Airlines brand also participate in the Oneworld global airline alliance. S7 Airlines has the biggest internal route network in Russia based on air transportation centers in Moscow (Domodedovo) and Novosibirsk (Tolmachevo) and carries out scheduled flights in Russia, as well as to the C.I.S. countries, Europe, Middle East, South East Asia, and the Asia-Pacific countries.
S7 Airlines benefits from the most advanced and one of the youngest fleets in the Russian market of air transportation services.
In 2015, the passenger throughput of the S7 Airlines Group's companies increased by 5.6 percent year-on-year to 10.631 million.
Siberia Airlines is one of the largest airlines in Russia. The major shareholders of Siberia Airlines are the S7 Group (63.3 percent) and the government of Russia (25.5 percent). The airline's fleet consists of 40 aircraft: 20 Airbus A319 airliners, 17 A320 airliners, one A310 airplane, and two long-haul Boeing 767-300 airliners.
The company's branches and representative offices operate in 37 cities of Russia, in 13 cities of the C.I.S. countries, and in 14 other countries.
From January to October 2016, the company's passenger flow increased by 17.8 percent year-on-year to 8.236 million.
According to AK&M Information Agency's DataCapital information retrieval system, the RAS net profit of the company for the nine-month period from January to September 2016 increased 3.75 times to RUB2.865 billion (USD50 million) from RUB763.425 million (USD12.59 million) for the corresponding period of 2015. Revenues increased by 34.37 percent to RUB85.266 billion (USD1.41 billion) from RUB63.457 billion (USD1.05 billion). Sales profits rose 6.18 times to RUB3.781 billion (USD60 million) from RUB612.21 million (USD10.10 million). Pre-tax profits went up 3.77 times to RUB3.654 billion (USD60 million) from RUB968.657 million (USD15.97 million).