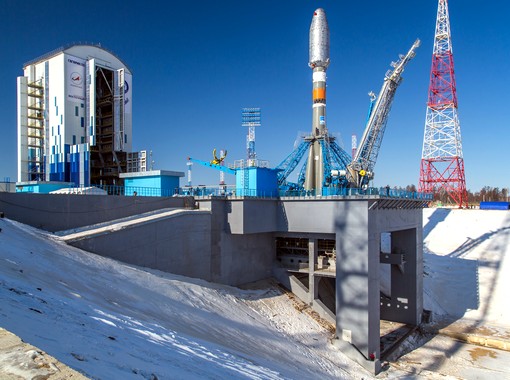 Souyz rockets set to take off in December will place into orbit the Canopus-V and the Meteor-M satellites for remote sensing.
The Roscosmos space agency intends to facilitate two takeoffs from Russia's new Vostochny spaceport in December 2017.
According to Roscosmos' head Igor Komarov, two Souyz-2 launches in December will put into orbit the Canopus-V and the Meteor-M remote sensing satellites. Vostochny's chief engineer confirmed that the space launchpad was ready and that two liftoffs are expected in late 2017. Roscosmos believes that in the years to come, there will be up to 10 launches conducted from Vostochny every year.
Located in the Amur region in Far Eastern Russia, Vostochny will be prepared to send off commercial launches in 2018. Part of the commercial launch plan that Vostochny intends to fulfill entails sending to space microsatellites for the OneWeb project that would put enough satellites into orbit to provide for broadband online access across the entire surface of the Earth.
So far, Vostochny anticipates having up to three commercial launches in 2018, and up to seven in 2019.
Russia entered into an agreement with a newly-founded telecommunications company called OneWeb to place into orbit satellites using 21 Soyuz rockets in a three-year term from 2017 to 2019. The company plans to launch 882 satellites and add another 2,000 satellites at a later project stage. OneWeb now considers using predominantly Russia-made rockets for the launches.
The purpose of Vostochny is to lessen the dependency that Russia came to have on Kazakhstan's Baikonur launchpad. The new space center is conveniently located at 51 degrees north, and therefore rocket payloads will not be affected. Baikonur is situated at 46 degrees north.
Russia embarked on building Vostochny in 2012. Facilities to accommodate the initial launch of an unmanned Angara rocket will be ready in 2021. The first manned Angara flight is projected to take place in 2023. Vostochny's maiden launch happened in April 2016, when a Soyuz rocket brought three satellites into space.